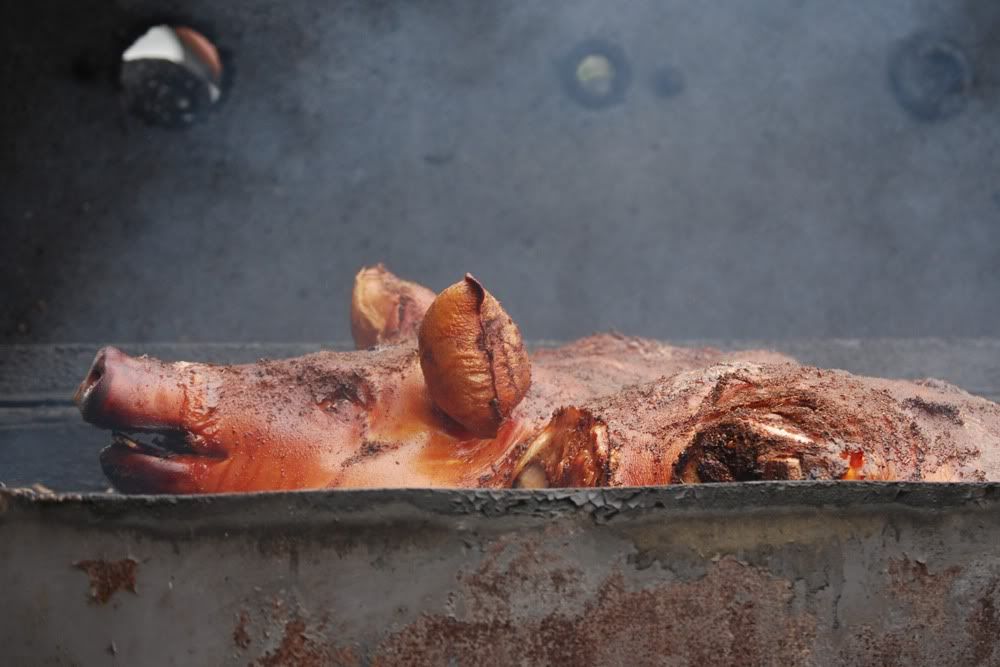 So my 4th of July weekend at home draws to an end with my return to the Village postponed until morning so I can enjoy my family, the Phillies, and all the leftover pig roast beer just a little bit longer. It was an awesome long weekend with just a touch of sadness at the realization that all we kids are finished with high school, really the realization that none of us are kids anymore. Still that can't take away from just how awesome a weekend it was.
I was so into recharging the brain that I didn't even bother getting myself a
New York Times
Sunday morning although I was tempted to get one later in the day just to sit by the pool and be a smart-ass. But I decided against it and played the good daughter, sis, and pseudo hostess all day. And a long day it was. Sunday began early, with the pig roasting on a hot humid morning, and it continued well into Monday morning with candles burning in the garden and a small fire on the deck. I finally crashed around 1:30 Monday morning and eventually found myself sleeping on the deck just like old times.
Dumb luck made the weekend just a little more special as my cousin Tess just happened to be visiting from the other coast. Tess is a year older than me and it has been years since I last saw her so Friday night the two of us and my brother went out to do some catching up. As I'm always thinking I came up with a photo idea involving Tess and her dad's totally awesome Ford Mustang that we shot on Sunday morning. Last I saw her the girl had tats but nothing like the complete body art she is sporting now and, just an observation, she looks hot. Looking at the photo later made me think that if my sis is my mini-me I might just be Tess' mini-me, just not so mini.
So in the end I did some swimming, some tanning (don't laugh!), re-bonded with my cousin, and spent a lot of time with my family. Along the way I drank too much cheap beer, ate too much pork, and accidentally fired a bottle rocket in the direction of a police cruiser that just happened into my line of fire. OK, so I wasn't the perfect hostess all the time. I did very little thinking about the Village, politics, or even art. I just vegged, recharged, and had pretty much the kind of weekend I was hoping for. I even added to my bucket list as Tess and I concocted a plan to cruise the left coast on Harley's one day.
Sometimes the t-shirts are right, life really is good.
Finally let me wish you a late happy 4th of July. Hope it was a good one with lots of alcohol and fireworks though I hope they weren't combined in any way. That's how police cruisers get shot up this time of year.
"Freedom is the right to write the wrong words." Patti Smith
Bruce Springsteen - Born In The USA, Live in Paris